Web Design Sydney
GET YOUR BUSINESS ONLINE
Think handcrafted, bespoke web design and development, that's what we love!
No two companies are the same which is why we build a site specifically for you, accurately incorporating all your services and business objectives.
We create websites that will get you business.
We Are The Small Business Web Design Experts!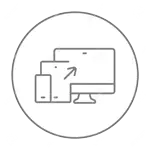 Responsive Web Design
Your website should look great no matter what device it is viewed on, whether it be a smart phone, tablet or desktop. This is what responsive web design is all about, an intelligent format that will adapt to whatever screen size, ensuring a perfect viewing experience across the board!
Every new website design and build we work on is fully responsive, allowing for better performance and user engagement.
User Experience – UX Design
It is one thing for your site to look good but, if it's difficult to navigate and use, people will not engage with your content and move swiftly onto the next site! To ensure this doesn't happen we engage the latest research on user experience web design, creating beautiful sites that people love to use.
Our web design team are experts at UX design, converting more traffic into customers.
Web Design
Process
We obsess over every aspect of your web design and build, from initial conception to the launch – it's our passion!
Our team will take care of every element, choosing the right colours, typography, uploading all content, keyword research and website optimisation for Google, clear call-to-action points, fluid user experience design, tested on all devices and browsers. You will love the end result and so will your target customers!